Quality Audit 2022
The quality assurance system of the University of Vienna was certified without requirements in 2022.
The Act on Quality Assurance in Higher Education (Hochschul-Qualitätssicherungsgesetz, HS-QSG) requires all Austrian universities to have their quality assurance systems evaluated and certified by an external agency. In 2022 the University of Vienna conducted the audit with the Swiss Agency of Accreditation and Quality Assurance (AAQ).
In the course of the auditing procedure, the University compiled a comprehensive self-evaluation report and was assessed by a group of five external assessors. In June 2022, the Swiss Accreditation Council certified the University of Vienna's quality assurance system. The certificate is valid until June 2029.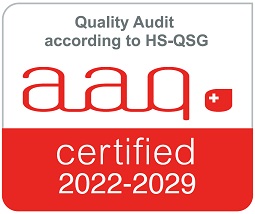 Schedule:
January to November 2021: Preparation of the self-evaluation report.

January 13, 2022/March 16-18, 2022: On-site visits by the peer reviewers

June 2022: Decision of the Swiss Accreditation Council
Audit Steering Group
The members of the Audit Steering Group are:
Rector Engl
Vice-Rector

Tyran

Chair of the Senate Schwarz

1st Deputy Chair of the Senate Steidl

Chair of the Curriculum Commission Krammer
The steering group discusses key points regarding the content and process of the re-audit, e.g. the selection of the agency.
The steering group identified three key topics for the audit:
Quality assurance in continuing scientific education

Quality assurance of the doctorate

Quality assurance on the way to a professorship
Audit Project Group
In January 2021 the Audit Project Group has been established by the Rectorate. The group prepares the self-evaluation report and constitutes an interface to the faculties, centres and service units. The Audit Project Group is led by vice rector Tyran, his substitute is vice rector Schnabl. The Unit for Quality Assurance is responsible for the overall coordination. Members of the project group are (functions as of January 2021):
Rectorate
Vicerector Jean-Robert TYRAN
Vicerector Christa SCHNABL
Office of the rectorate
Claudia KÖGLER, Head of the Office of the Rectorate
Deans
Gerhard ECKER, Dean, Faculty of Life Sciences

Petra HEINZ, Dean, Faculty of Earth Sciences, Geography and Astronomy

Radu BOT, Dean, Faculty of Mathematics
Sebastian SCHÜTZE, Dean, Faculty of Historical and Cultural Studies
Senate
Stefan KRAMMER, Chair of the Curricular Commission of the Senate

Ilse REITER-ZATLOUKAL (Replacement: Nuno MAULIDE)
Claus TIEBER (Replacement: Elisabeth GOLDARBEITER-LISKAR)
Directors of (Doctoral) Study Programmes
Hans-Bernhard SCHMID, Director of Studies, Doctoral Studies Programme Philosophy

Sophie LECHELER, Director of Studies, Doctoral Studies Programme Social Sciences

Christian KORUNKA, former Vice-Director of Studies, Doctoral Studies Programme Psychology

Christiane DALTON-PUFFER, Director of Studies, English and American Studies

Kerstin HUMMER, Director of Studies, Physics
Students / Student representatives (ÖH)
Stefan DZEVER
Magdalena TAXENBACHER
Replacements: Nikola BELIVAKIC, Stefanie RUBENZUCKER, David VAN DE SAND, Felix SCHMIDTNER, Wolfgang WIESINGER
Service units
Roland STEINACHER, Head, Teaching Affairs and Student Services

Irene ROTTENSTEINER, Head, Human Resources and Gender Equality

Lucas ZINNER, Head, Research Services and Career Development
Unit for Quality Assurance
Michael HOFER, Head
Jürgen ROTH