Surveys
In accordance with the Rectorate's guidelines, surveys conducted within the University must be coordinated with the Unit for Quality Assurance. Ideally, they should also be carried out and supervised by experts of Quality Assurance using the professional surveying software EvaSys.
User and satisfaction surveys regarding university services

Employee, student and graduate surveys
Course, event and programme evaluations
The goal is to conduct university surveys using the expertise and resources available within the University of Vienna. However, some tasks may be assigned to external service providers in cases where their expertise is needed to guarantee the quality of the process.
The Unit of Quality Assurance's survey consulting services pertain to all phases of a survey project and they can also be used for individual parts of the process.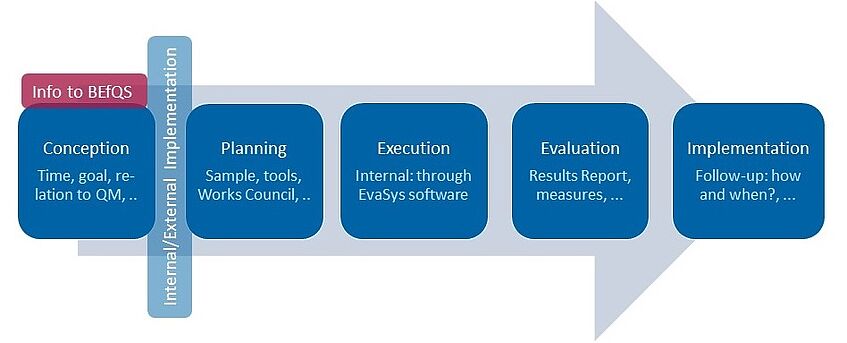 Examples for surveys carried out on a periodic or one-off basis
The Unit for Quality Assurance can look back on many long-standing survey collaborations at the University of Vienna. Most surveys are and were in the form of an online-questionnaire, even if other tools are used for certain surveys depending on methodological demands.
Survey on behalf of the University of Vienna's

Language Centre

, part of the shareholding Innovationszentrum Universität Wien GmbH, for participants of the fee-based language courses (repeated regularly)
Survey on behalf of the University of Vienna's shareholding

Career Service UNIPORT GmbH

for participants of lectures and seminars offered (repeated regularly)
Survey on behalf of the University of Vienna's

Postgraduate Center

of graduates from continuing education programmes (repeated regularly)
Survey on behalf of the University of Vienna's

International Office

for ERASMUS students (incoming, outgoing and placement) and non-EU exchange students (repeated annually)
Surveys on behalf of the

Vienna University Library and Archive Services

for users of the libraries about their habits and how they use services provided by the Main Library and the special libraries (repeated regularly)
Survey on behalf of the

Accounting and Finance unit

for users of the Q-Flow service (once after the introduction of the new workflow)
Survey of employees for the image analysis of the University of Vienna (mandated by the Rector, in cooperation with the

Department of Communication

and

Corporate Communications

, multiannual)
Counselling and process support for the assessment on mental workload in the workplace carried out by order of the Rectorate in accordance with legal requirements (repeated every seven years, with external support)
HR Mag. Dr. Lukas Mitterauer-Koch